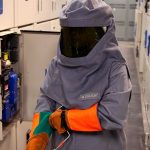 Wearing Arc Flash PPE is not a guarantee that injuries will not be sustained if an arc flash event is experienced. Selecting the correct arc flash PPE will play an important role in ensuring that arc flash hazards are minimised and fatal injuries are avoided.
The safest way to work on equipment where there is a potential for arc flash is to de-energise this equipment before work begins, using the correct LOTOTO methods. However, there are instances where this is not possible, and people will be at risk. Choosing the right level of arc flash PPE will mitigate the risks of being exposed to extreme temperatures and shock hazards when performing electrical work.
Dependent upon the level of risk, arc flash PPE can vary from arc-rated face shields, safety goggles, and hand protection to full arc flash switching suits used by personnel working on or near electrical installations.
The danger and effects of Arc Flash
So what are the dangers of arc flash exposure? Serious injury or even death in the event of an arc flash incident. In a fraction of a second, a person can sustain fatal electrocution, second and third-degree burns, short or long term damage to the eyesight and hearing, and even broken bones, concussion, and collapsed lungs caused by the force of the electrical explosion.
The temperature at the source of an arc flash can reach as much as 20,000oC – hotter than the surface of the sun. Read more about the causes and effects of arc flash.
Do I have to wear Arc Flash PPE?
Arc flash risk management is required under UK law. In the UK, as specified by Regulation 4 and Schedule 1 of the Management of Health and Safety at Work Regulations 1999, the types of control measures implemented to mitigate the potential effects of arc flash are assessed in terms of being appropriate to the risk present.
This means that it's important to be able to understand the potential hazard, quantify the level of risk inherent in the practice, assess accurately who could be at risk if an arc flash occurs, and understand exactly what could happen and what the outcomes could be.
Every piece of equipment operating at above 50 volts and not de-energised when work is carried out in the vicinity has to be evaluated in terms of arc flash risks and shock protection.
Arc flash and arc blasts are known hazards and risk levels are assessed via an arc flash study, which determines the incident energy at any individual point of work in order to establish safe systems of work. Values are allotted to different levels of incident energy on the equipment concerned, which determine what control measures should be implemented to eliminate the hazard.
There is an equal risk of arc flash at both high voltage HV (above 1000Vac) and at low voltage LV (below 1000Vac). Some studies suggest the risk may even be high with low-voltage installations.
Arc flash protective clothing has an important role to play in keeping people safe and ensuring safe systems of work. However, it should be viewed as a last line of protection rather than a universal panacea for every situation. It's vital to ensure that the ATPV (Arc Thermal Performance Value) of the PPE selected is appropriate for the work at hand. Full switching suits are not necessary for every task and can impede movement and increase risks. Equally, with hands/eyes and face most at risk for lower voltage applications, choosing the right protection is vital.
Personal Protective Equipment Regulations 1992 state that "Before choosing any personal protective equipment which by virtue of regulation 4 he is required to ensure is provided, an employer or relevant self-employed person shall ensure that an assessment is made to determine whether the personal protective equipment he intends to provide will be suitable."
So when employers are providing employees with arc flash PPE, they must consider the potential severity of the hazard. Current practice requires the use of an arc flash study to determine the incident energy for each piece of equipment.
How is Arc Flash PPE rated?
Special flame and heat-resistant fabrics are used in the manufacture of arc flash clothing. Reinforced stitching is employed to reduce the risk of the clothing disintegrating in the event of a fire.
These fabrics are measured in terms of Arc Thermal Performance Value (ATPV), which assesses their ability to provide adequate levels of protection when exposed to the incident energy of an arc flash. ATPV is expressed in terms of the level of incident energy generating a 50% probability of serious burns in the event of exposure to an arc flash event.
Alongside ATPV, the arc rating of PPE is also expressed in terms of EBT (Energy Break Open Threshold). EBT fabrics used in arc flash protective clothing usually provide more insulation than strength, whilst ATPV fabrics are typically stronger.
In Europe, arc flash clothing must be tested in compliance with IEC (International Electrotechnical Commission) standards to IEC 614821-1.
Industries that require Arc Flash PPE
Arc flash usually happens in larger switchboards, but can also be a feature of smaller installations and large items of electrical equipment, found in almost any industry across the UK. Arc flashes can happen when work is carried out on or near energised electrical equipment, which means that maintenance workers and electricians can both be at risk during working procedures.
Energy Testing
Anyone working on high power circuits will require differing levels of protective arc flash equipment and arc flash clothing, dependent upon the arc flash study and risk assessment.
Industrial Electricians/Electrical Contractors
Anyone working on large machinery in a manufacturing or production environment will require arc flash clothing to avoid injury when working on energised equipment.
Electrical Engineers/Consultants
Charged with assessing electrical safety on site, electrical engineering consultants can be at risk when arriving at a location where the equipment has not already been certified as safe. The use of arc flash PPE is indicated to prevent injury.
Road Construction Workers
High voltage wires and high current conductors are often an issue on road construction. Any work on or alongside equipment with an electrical charge poses risks and should be assessed in terms of arc flash.
In addition, with work on roads often carried out at night, combining arc flash protection with hi-vis capabilities can be a useful option.
How to choose the correct Arc Flash clothing
Consult with the specialists. At Reece Safety we have a comprehensive range of high quality, high-performance products available ex-stock for immediate delivery, meeting and exceeding all required safety standards, from the world's leading arc flash clothing industries.
PPE arc rating
Arc Flash PPE ratings range from 1 to 4 with 4 requiring the highest levels of protective equipment. The rating increases in steps.
CATEGORY 1 - MINIMUM ARC RATING OF 4 CAL/CM2
Hard hat
Arc-rated face shield
Safety goggles
Hearing protection
Leather gloves
Arc-rated long-sleeved shirt
Arc-rated pants
Leather footwear
CATEGORY 2 - MINIMUM ARC RATING OF 8 CAL/CM2
Arc-rated face shield
Safety goggles
Hearing protection
Arc-rated balaclava
Leather gloves
Arc-rated long-sleeved shirt
Arc-rated jacket
Arc-rated pants
Leather footwear
CATEGORY 3 - MINIMUM ARC RATING OF 25 CAL/CM2
Arc-rated flash suit hood
Safety glasses
Hearing protection
Arc-rated balaclava
Arc-rated flash suit jacket
Arc-rated long-sleeved shirt
Arc-rated flash suit pants
Arc-rated pants
Leather footwear
CATEGORY 4 - MINIMUM ARC RATING OF 40 CAL/CM2
Arc-rated flash suit hood
Safety glasses
Hearing protection
Arc-rated gloves
Arc-rated flash suit jacket
Arc-rated long-sleeved shirt
Arc-rated flash suit pants
Arc-rated pants
Leather footwear
Consider the materials and fibres used
Arc flash clothing is typically manufactured using flame-resistant materials capable of withstanding the high temperatures generated during arc flash events and providing adequate insulation against electric shock.
In addition, many materials now also cater to the comfort of the wearer, with improved levels of breathability and movement to enable individuals to continue to work effectively when they are wearing flame-resistant protective garments.
There are two categories here.
Inherently FR fabrics
Inherently fire retardant fabrics are specially engineered to provide fire-resistant properties. They don't contain chemicals to enhance their performance, and they will retain their effectiveness over time, even when washed.
Treated FR fabrics
These fabrics are chemically treated to achieve flame-resistant characteristics. They are often more comfortable as they don't contain synthetic fibres, but their performance will deteriorate over time.
Consider durability for the specific job
Levels of arc flash protection and arc flash clothing, and the equipment required to achieve this, will be determined by the requisite arc flash study. Some applications will require the highest Category 4 rating, whilst other activities will be inherently lower risk and fall into one of the lower categories.
Arc flash switching suits
Reece Safety carries extensive stocks of Category 4 arc flash switching suit kits with jackets, salopettes, gloves, and hoods in a convenient kit bag, ideal for people only needing arc flash protection during a switching operation, typically at high-risk areas like substations. Arc flash-switching suits are worn over existing workwear and provide the ultimate protection.
Arc flash grab bags
Reece Safety also offers simple, well-assembled kits for face and hand protection. With arc flash, there is a high risk of injury to the face and hands. It's common for individuals to focus on workwear, swapping to arc flash coveralls and forgetting the highest risk areas. The PPE grab bags contain items such as face shields, balaclavas, and gloves, ideal for keeping in a vehicle or in the workplace so the equipment is always on hand and clean when required in the event of arc flash hazard.
Comfort helps but isn't essential
Arc Flash PPE clothing is designed to prevent serious injury and save lives in the event of an arc flash incident. Comfort is a consideration, but for certain applications, the clothing is heavy-duty and can be uncomfortable when worn for long periods of time. For saving lives, while comfort is a consideration the reality is that this clothing is going to be heavy-duty and if worn for long periods uncomfortable.
Where comfort is an issue, we stock the new high-performance quality arc flash clothing Alu-Safe DP range by Charnaud, designed for protection against molten metal spills but also providing arc flash protection to 10cal/cm2. These garments feature a soft touch finish which makes them comfortable to wear, alongside excellent breathability and moisture regain and dissipation.
How to perform an Arc Flash study for your workplace?
Arc flash studies must be carried out by a qualified electrical engineer to ensure that businesses fully understand the risks posed by different workplaces.
Conclusion
Correct assessment of the risk of arc flash in the workplace is essential in order to specify the right level of PPE to ensure the safety of personnel. Arc flash PPE should be viewed as the last line of defence, used where other options such as de-energising equipment cannot be implemented to make the workplace completely safe.
At Reece Safety, we carry an extensive range of arch flash PPE, always available ex-stock. We focus on providing a high-quality, high-speed service for industry. Call our specialists for advice and guidance.
About Author