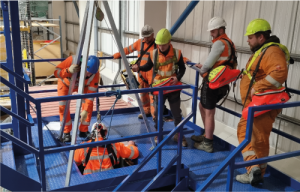 Working in confined spaces can be hazardous and pose a serious risk of injury. It is therefore important to have full knowledge and understanding of the correct procedures, confined spaces regulations and risks involved.
Reece Safety has been delivering confined space training courses across all industries for nearly three decades. We now have two centres for delivering all levels in our fixed simulators. We cater from low risk entry through to high risk entry and rescue training. The City & Guilds 6160 suite of courses through our accredited centre status can all be delivered.
Reece training courses can be delivered onsite, using real confined spaces for the training. Plus the use of your own confined space equipment and procedures can be built into the training. Reece Safety has recently invested in a mobile confined space simulator and can bring a fully accredited City & Guilds training programme to your site. We will create industry-based scenarios to help make the simulation relevant to enhance the learning experience.
We have also developed a very relevant training package to suit the Minerals and Waste industry sectors and these fit in well with the regular Confined Space Classification Consultancy we now regularly conduct. Reece Safety will take companies through our "journey" to give pragmatic guidance which can be used in Management and Entrant training with relevant examples of local scenarios to assist with learning.
Our new container-based confined space entry simulators can be left on-site to deliver the training and allow further practice following the delivery of the course.