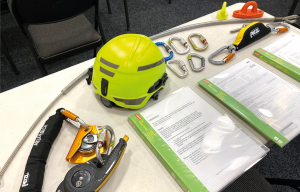 PFPE1 - One day course - Introduction Course
Intended for
Our WAH PFPE Inspection training course is for persons responsible for undertaking the PPE inspection and thorough examination of PPE related to WAH and fall prevention.
Introduction
Delegates will gain a thorough understanding of equipment, its approval and its intended uses and from there outwards will be shown how to inspect, check and thoroughly examine the equipment in the workplace or in the workshop.
Delegates will be able to set up and maintain records from beginning to end of equipment life.
Core modules
Legislation and standards relating to PFPE inspection
Duties and responsibilities of the inspector
Useful documents, forms and resources
Equipment marking requirements and testing
Inspection and record keeping procedures
Types of examinations and inspections
Types of equipment - general safety, climbing, ropes access, rescue etc
Textile equipment inspection methods
Metalwork inspection methods
Sealed units – limitations of inspection
Equipment care, storage, maintenance, disposal
Entry requirements
PROSPECTIVE DELEGATES MUST HAVE TOTAL FLUENCY AT BOTH SPOKEN AND WRITTEN ENGLISH LANGUAGE AND BE CAPABLE OF GENERATING AUDITABLE DOCUMENTS IN ENGLISH
Assessment method
Certification of competency is issued ONLY to those delegates who successfully complete BOTH the practical elements and a comprehensive written test.
Course duration
One day
Candidate ratio
1:6
Revalidation period
Reece in house certification valid for 3 years
PERSONS CARRYING OUT THE PRACTICAL ELEMENT MUST BE PHYSICALLY FIT AND COMFORTABLE WITH WORK AT HEIGHT