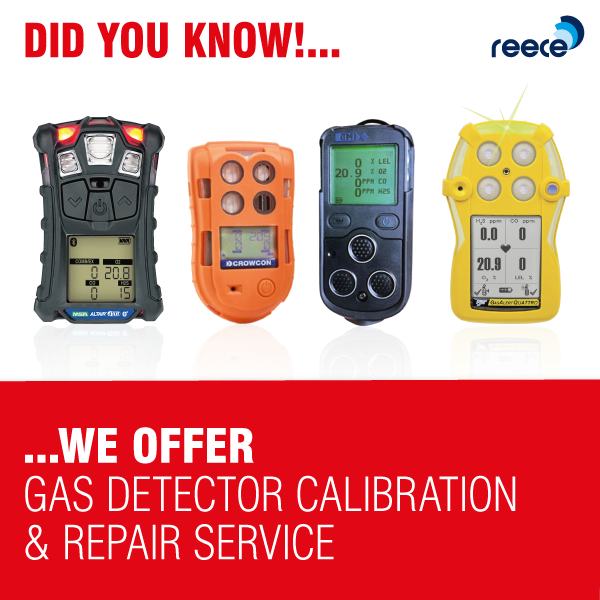 Reece Safety offer a comprehensive support service for Gas Detectors to support our customers. This is for gas detectors both sold by us directly, as well as those a customer had sourced elsewhere.
For each gas detector we do the following:
Contact and notify the registered user in advance of calibration due date
Forward to the registered user the relevant form to be attached with the gas detector to ensure that it is properly identified when being returned to Reece Safety
Undertake the calibration for just £45 for a 4 gas detector and £55 for a 5 gas detector
Keep records of all gas detectors supplied / calibrated to note their calibration date history, pass records and repairs if required
Attach a unique Reece Safety 'Dog Tag' for each detector once passed calibration noting:

Unit serial number
Calibration unique ID number
Calibration pass date
Calibration next due date
Order number of calibration undertaken

Where a gas detector fails calibration, the customer is notified of the reason for failure where known and asked for permission to send to the manufacturer to repair with repair diagnostic charge of £55.
Repairs – Reece liaise with the manufacturer for the whole repair process by:

Keeping diary records of gas detectors sent for diagnostic and repairs
Quoting to the customer in advance repair costs to gain authority to proceed
Where costs of repairs are uneconomic, provide a quote for a replacement unit
Return repaired unit to the originating customer
This work is undertaken by the Reece team to ensure that customers have a full support service for the gas detectors to keep them consistently operational.
If required Reece Safety can offer a hire service for gas detectors, with a 4 gas detector available for hire from just £65 per week.
Contact us to see how we can help maintain your gas detectors with an accurate and timely service.